Buy Seed balls in Chennai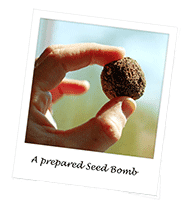 Our virtue by Gifting Seed Balls
Seed balls are seeds wrapped up in a ball of red soil or clay. Seed balls have also been used for reforestation as well as shows your virtue and care of green earth by giving this a return gift.
While you travel this Seed balls should be thrown on the ground and forgotten. The clay shell protects the seeds from birds, ants and rats. They will sprout when there is enough water or rain. There is no need to plant them, as they are already surrounded by soil, nutrients and microorganisms.
Ready to deliver if you buy seed balls in Chennai, Tamil Nadu, India. Call us for more information +91 9445668787
Why are seed balls in Chennai?
We use 3 kinds of compost to supercharge our seed balls for all the nutritional requirements of your plants.
We test our seeds for germination and make certain that our seed balls have excellent viability when the environment is favourable.
We compose ball with organic seed collected from various places all over South India.
How do we make and Pack?
Seeds are scarified if necessary prior to placing in the seed ball. Depending on the size and requirements of the plants, seeds are either mixed in with the soil before the seed balls are made or placed individually within the moist seed ball. We carefully hand roll each seed ball until it's just right. The seed balls are then air-dried, providing a safe haven for its contents until germination. We are making all these processes in several places in South India and deliver seed balls in Chennai, Tamil Nadu, India.
Our seed balls are packaged in a small recyclable paper box. Nothing fancy, nothing that leaves an unnecessary footprint.

inemai.com is handled our guest very well and satisfied our all need in catering. All our friends and relatives appreciated the food and the way they presented to them. So happy about my event.
Jagadeesh K
British Telecom

When I was searching for birthday catering in Chennai, Inemai team impressed me. Finalised them and they organised my event very neatly and their hospitality was too good. Budget is a bit expensive but I felt extremely worth & go for it.
Dr.J. Venkatesan
Doctor. Homeopathy Medicine

I know them personally, my father accepted and fixed them to arrange my marriage events and catering. Not expected that their team members are well trained and professionals to set up everything on time. I can say they did extraordinarily in Vadivelu style! anyway, they made a cool event for me.
Guruprasad M
Associate, CTS

Deva from inemai.com become my friend by this company event who has organised this time. Fantastic man! Really really loved your efforts to mark this moment as memorable and lovely.  I would say thank you very much....
V.Ravichandran
DO, LIC of India